UV Perfect
Super Aqua Essence SPF50|PA++++
Perlindungan terhadap sinar UV 12 jam berbentuk Gel Cair yang Canggih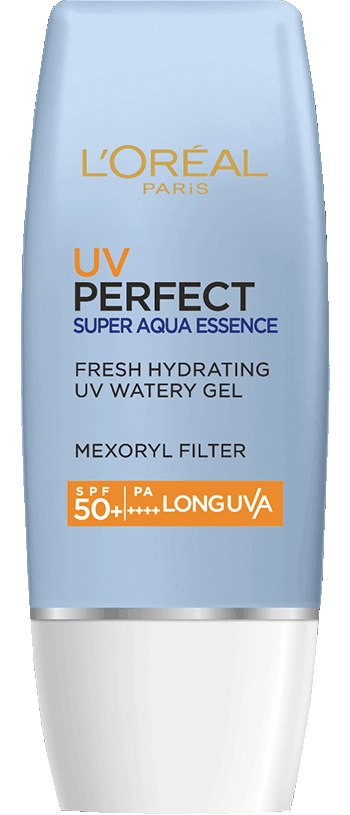 Kulit terlindung terhadap tanda-tanda photo aging: bintik kecokelatan, warna kulit menjadi gelap, kehilangan elastisitas dan kekencangan, keriput, dan stres eksternal. Secara bertahap, kulit tetap tampak cerah dan muda.
1. SPF50|PA++++ dengan Filter UVA Panjang
2. Perlindungan Terhadap Sinar UV Selama 12 Jam*
3. Tekstur cair yang sangat ringan
4. Menghidrasi kulit + Kekuatan Antioksidan
5. Tidak lengket, bebas minyak
TEKSTUR: Tekstur segar yang sangat ringan menjadi cair saat mengenai kulit. Mudah dioleskan, cepat meresap. Bebas minyak dan tidak lengket.
MEXORYL XL FILTERS + LONG UVA FILTERS: Provide a photo-stable broad spectrum protection in a watery essence.

ADENOSINE + MICRONIZED [HA] : Helps fight against skin aging while replumping skin.

DETOXYL + VITAMIN E: Helps to neutralize free radicals and city agressions.

*instrumental test on UVB protection
Gunakan setiap hari di akhir rutinitas perawatan kulit Anda. Hindari kontak dengan mata. Jika terjadi kontak dengan mata, segera basuh secara menyeluruh.